Down-Lighting
Down-Lighting means lighting objects or areas from above.

This technique can act as your main light source providing light for circulation, a little bit of security and general "seeing". However you will better accomplish this using Area lighting techniques.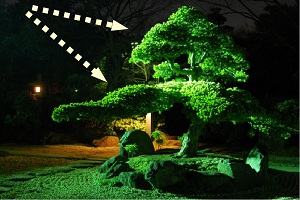 Down Light
Your down-lighting setup may consist of either a single large flood light or several smaller sources to focus on a particular part of the landscape and/or provide general illumination, security or entertainment.
The light source(s) may be mounted high in a tree and
diffused
or
filtered
.
The goal is to imitate natural daylight, such as a ray of light or a moonlit shining down through the trees.
Your garden is your stage and this could be your first lighting step.
There are now a variety of solar powered LED spot lights to begin your project so have a look at the section on
Solar Spotlights
if it interests you.