Solar-Deck-Lights
Solar deck lights are composed of an LED light sources photo voltaic cells ( PV Cells ) and a rechargeable battery contained inside a durable stainless steel weather-resistant housing and turn on and off automatically.

Variety is assured when you are selecting these lights. So, whether you would like very elegant discreet technological appearance of a light that appears to be nothing more than a dark circle in the floor, you will find it.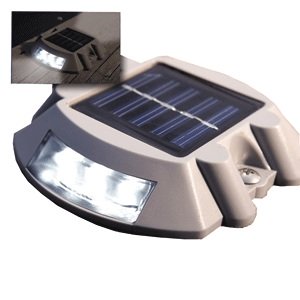 Solar Deck Light
Solar-Deck-Lights incorporating LED technology are a rugged, energy efficient and wireless solution for illuminating outdoor recreation areas and pathways.
Cylindrical Deck Light
On the other hand you may wish to distinguish yourself the neighbourhood pack and choose units with more characteristic, even futuristic shapes …that's where I live!…
For Solar-Deck-Lights... No matter how you like your technology, discreetly or overtly packaged, you will find it.
…Common solar deck light types are solar, (12 Volts), low-voltage and standard voltage (120 Volts)…
Consider shattering the Solar-Deck-Lights concept with Light Cubes
or the mysterious spectacle of
Light Spheres.
Brilliant Minds Don't Think Alike!
Does your Deck Lighting have to look just like your neighbours? Is resistance really Futile?

It only takes one person to spark a creative illumination movement in a neighbourhood. You're probably a back-yard genius and don't even know it!

What's your solution?
What Other Visitors Have Said
Have a look and see what others are saying...

Making Plans

Hey, I`m planning for next summer right now. I have this idea about turning my back yard and patio into a more theatrical and mysterious place. …