Solar-Security-Lights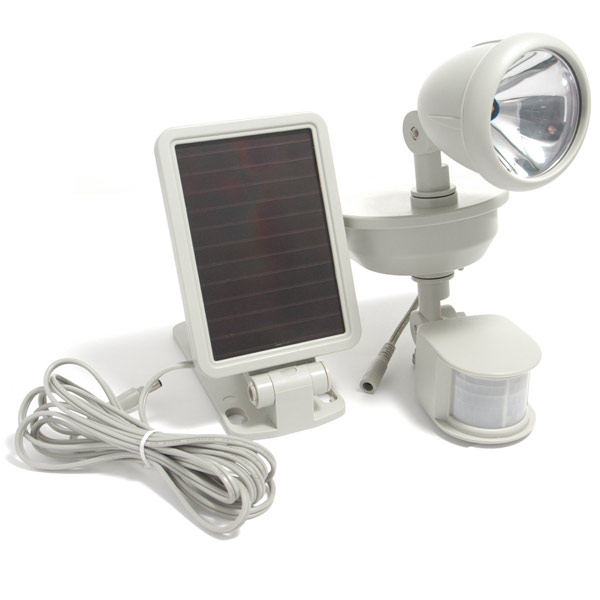 Solar-Spotlight and Motion Detector
Solar-Security-Lights
can provide, detection, prevention and a sense of reassurance for you and guests all at once.
Use your system to suggest that someone is always home and that passers-by can be seen easily.
It seems that would be wrong-doers prefer easy targets. Don't be the target.
You may approach this project in more than one way.
One approach is the straight out of the box security solution or use your existing; or soon to be installed; system to perform the dual lighting and security function.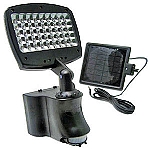 Solar Spot Light
For the out-of -the box approach, you can purchase a purpose-built security lighting system which incorporates a solar panel, one or more adjustable LED or incandescent spot lights, and a battery into a single wall-mounted or pole-mounted package capable of detecting movement and switching from off to full brightness instantly.
A possible problem for you may be the cold glare typical of security lighting.
If you really dislike this effect, please read on.
Don't forget, you can use these techniques and tools to light entrances and doorways…
Another approach involves designing security lighting features into your existing, or soon to be installed lighting system.
Solar-Security-Lighting system does not have to be harsh or very bright to be effective.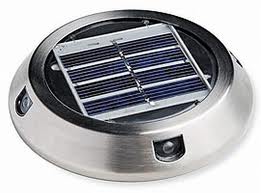 Solar Deck Light
Area-lighting
establishes a base level of illumination for enjoyment of outdoor activities.
This technique is often used on the patio and deck while
Down-Lighting
or lighting objects from above to imitate the effect of sunlight.
Use flush-mounted lighting to illuminate steps, floors pathways. Especially useful in pool areas.
These techniques, as you can guess offer garden illumination with a sense of security without over-lighting or maybe more important, without wasting money.
Can you use solar security lights inside? Yes you can, but as you would guess you have to pass an electrical wire from the solar panel outside through the wall to the light inside.
NOTE
If you opt for a line-powered rather than solar powered security system, be sure to place your light switches in a convenient location from which you may both operate your lights while observing your property.
…Be bad to be good?
Regardless of which technique you choose top use, remember that you may also light your doorways entrances and archways. Solar-Security-Lights don't have to look bad to be good.
Your Spurpose-built solar-Security-Lights may be complimented by Solar-Spotlights in and around your garden.