Light-Sphere
Once you've seen the images of a Light-Sphere, I may not have to say a word.

Light-Spheres are a creative, and I hope you will agree, welcome twist on the garden light concept.

They exist to provide ambience indoors and outdoors in the garden or in the pool but unlike typical garden lights with a light source we try so hard to conceal, with Light Spheres and their warm glow, we reveal them as conversation pieces.

Whether you'll have one or many, when seen from a distance, Light Spheres present an eerie spectacle, but they're stunning, fascinating, elegant pieces of garden art.

As you look at the images, you might find them a little reminiscent of a 1960s furniture and science fiction film décor or better still, a Dr. Seuss tale.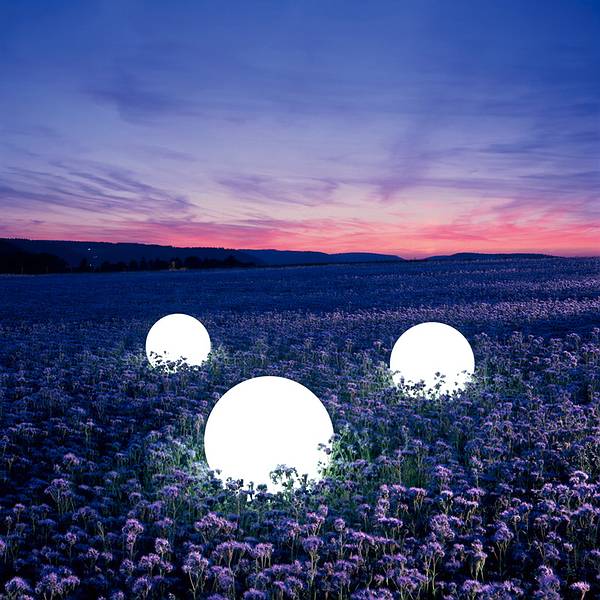 Light Sphere by Moonlight
…but what if these big, round light sphere 'Thingies' could roam my garden on their own, you ask? Wouldn't that be cool?
Well, yes it would be…and they can and do.
Moonlight has created a kind of moving half sphere, called "Moving" with the ability to crawl along flat surfaces.
For the time being though, Moving seems to need to confine itself to flat surfaces indoors or outdoors, but really take a moment to imagine, spheres moving about your garden under their own "will".

Spooky? ...Yup!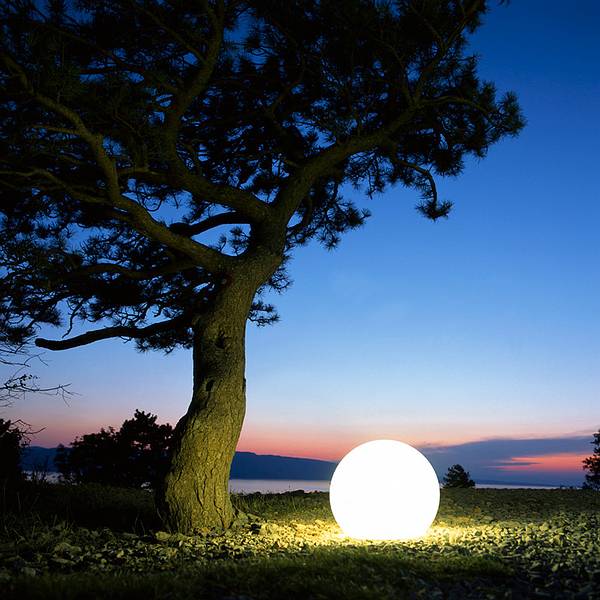 Light Sphere by Moonlight
Spooky indeed, but actually they're groovy-cool. The key to the illusion of self motivation is remote control.
This remote control, LED (RGB) or energy-saving light technology for illumination and come in 350mm, 550mm, and 750mm diameters.
Some have never seen a Light-Sphere before or even conceived of such an object in their garden. One glance at a Light-Sphere can tell anyone that its bound to be a highlight of many gatherings.
As with many other lighting products, with Light Spheres there are options and plenty of variety.
Including sizes, finishes, variants and mounting methods, the Moonlight sphere is produced by Moonlight a German-based company.
Here, we will focus our attention on the Moonlight battery, the battery operated version which, like many versions, can be used indoors or outdoors.
Operate at a range of temperatures from -40 up to +80 degrees Celsius.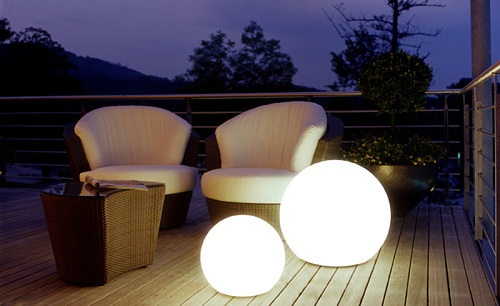 Light Sphere by Moonlight
Power your Nimh batteries with a solar battery charger and expect 8 to 10 hours of operation from as little as 9 hours charge!  
For now, these lights/furniture/toys are limited in that they don't use the colour-changing technology that was so impressive in
Light-Cubes
.
Instead, you will choose then install a coloured filter from a selection of 24 basic colours with additional shades are certainly available. ON/OFF functions are controlled by a remote. Available in 250mm, 350mm, 550mm, 750mm diameters.
So, today we add to our shared experience. We have our ideas about just what can be considered garden lights and creative ways to have fun with light in the garden. With Light Spheres we add focal point, a welcomed glow and magic for four seasons.
Buy Light-Spheres
20 Inch Light-Sphere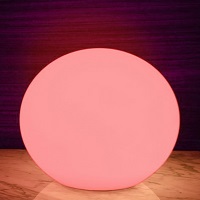 16 Inch Light-Sphere
12 Inch Light-Sphere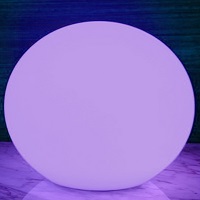 24 Inch Light-Sphere