Light-Cubes
I love modern Minimalist design of Light-Cubes and what's more, maybe you do too.

Contemporary designers are giving us new forms for our function and the results are wonderful and miraculous.

Lets take time to look at light cubes, light spheres, light tables and some other great outdoor lighting designs.


Light Cube Mood+Remote for Viteo
For some of us, these objects are new while for others not so much so. While not purpose-built to operate on solar power, these can operate on batteries.
This is a great opportunity to use rechargeable batteries charged by a
solar battery charger
, if you want stay true to the solar-powered-garden-lights .net concept.
Finally! We have indoor/outdoor Light-Cubes for you right HERE and guess what? The prices are great. CLICK
While not the only light cube on the market, Wolfgang Pichler's design is certainly one of the sexiest!
Mr. Pichler's selection of Light-Cubes are acrylic glass and stainless steel lighting / seating elements.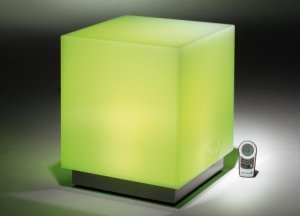 Light Cube Mood+Remote for Viteo
To power your Cube, you have a choice of the plug-in type which requires household power in order to operate or the battery operated type.
Wolfgang Pichler's Light Cube Mood, Light Cube Mono and Light Cube Battery are all distributed by Viteo.
They are identical in appearance but not in function, they measure
L 40 W 40 H 45 cm or 16 X 16 X18 in. approximately and are designed to operate in temperatures from –40 to +100 °Celsius or -40 to +100°Fahrenheit.
The Light Cube Mood


The Light Cube Mood offers remote control of light intensity, colour and eight reselected lighting moods. This is a programmed cycle from red-green-blue-white-magenta-cyan-orange-yellow.
Light Cube Mood Battery


This Cube works the same way that the Mood does, but operates on battery power alone. Just turn it over to see the rechargeable and ON/OFF switch.
The Light Cube Mono


The mono does not change colour or "mood". Lit internally by a compact fluorescent bulb, Mono is available in red, green, yellow, blue and white.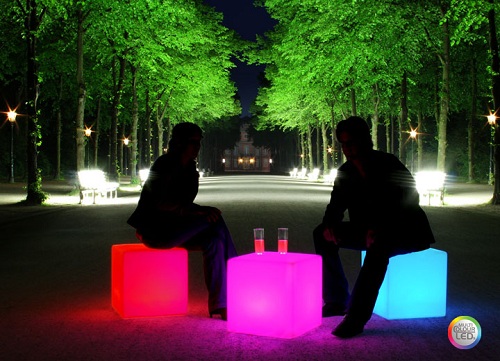 Accu Outdoor by Moree LTD.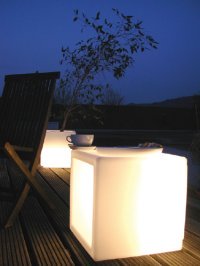 Max Kistner's Lux-us Cube
There are some great variations among Light-Cubes. Have a look at Max Kistner`s Lux-us Lighted Cube. What a great design element this is because not only does it function as a light fixture, a table or seating, but in a single day the Lux-us Lighted Cube can function as a book shelf, the next day it becomes a plant pot.
Germany's Moree and Spain's Vondom's S.L.U.(producer of Kubik cube) both have something interesting to suit your purposes, so you won't have to look too far to find a versatile piece of modem illuminated furniture for you outdoors.
Light-Cube with a twist?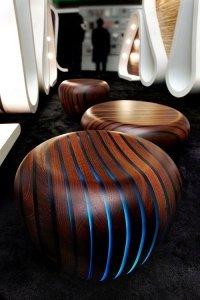 The Brightwoods Collection
The Bright Woods Collection by Giancarlo Zema is another is a well-dressed furniture element practical enough to serve its prime function as comfortable furniture.

Stylish enough for a variety occasions without looking either garish or flimsy or Kitsch. Rugged enough to "live" happily outdoors throughout the season.

So, how to compliment your Light-Cubes, objects which render other garden furnishings ordinary? Hmmm...How about an illuminated, Inflatable Bar?
Buy Light-Cubes
17-inch-Light-Cube
16-inch-Light-Cube

12-inch-Light-Cube