Garden-Lighting-Tips
Here are some handy Garden-Lighting-Tips and ideas which may be applied to both Solar-Powered-Garden-Lights and hard-wired incandescent garden lights.

In the left column you will find some interesting and related material to give you a more visual experiece rather than text alone. Explore and enjoy... your Garden-Lighting-Tips experience begins here.


Reminder
ADD YOUR TIPS!
Talk about your what works for you or your own special techniques.
OR...Just send a few photos and brag a lot!

Share your story.


Avoid distracting glare by concealing your light source with the luminaires built-in light shield or simply conceal the light source with natural camouflage such as bushes, stones, branches and so on.

You may even use solar powered landscape lights. Known by various names, these are light fixtures made to look like landscape objects.
When you install your Solar-Powered-Garden-Lights low to the ground, avoid any obstructions to the beam. This way you will avoid casting shadows on the very objects you are trying to illuminate. …BUT…if shadow effects are exactly what you want to achieve then do the opposite.
Avoid over-lighting your outdoor area because there is no need to illuminate every corner of your landscape as this could lead to flat sporting arena or shopping mall appearance. If you remember to practice the philosophy exemplified by the statement, "less is more".
Experiment with backlighting. Lighting trees in the background of a forested area creates silhouettes in the foreground.

An up lighted hedge behind a shrub or tree will do the same.
Don't illuminate every surface in the garden. Shadows work to define lighted areas.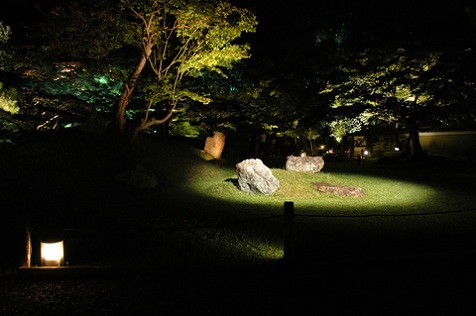 Outdoor Lighting
Create a night-time garden look which is different from your garden's day-time look. Use the light to pick out only what you want to see for a dramatic effect and allow other areas to remain in darkness. This is a level of control that you do not have during the daytime.
Always purchase the best equipment that you can afford. This is a very important Garden-Lighting-Tip, I hope you'll agree. Solar powered garden lights are relatively inexpensive, but you really want to avoid "cheap". You will get what you pay for.
Think about where you and your guests will stand and sit. These are places where you want to control any glare.
Driveway lighting should offer safe access for pedestrians at the same time as lighting the driveway for vehicles. Either lamp posts or small post lights provide an excellent solution and alternative to bulk head luminaries, where driveway lights are required.
NOTE: If you enjoyed the Garden-Lighting-Tips section, why not explore the rest of the site.
What's your garden lighting tip-of-the-day?
Every summer, you're out there making discoveries and you wished you had someone to tell! You may manage one plant or you may manage thousands. What works best for you? What lighting products worked best? What techniques give you the best results?

Take a moment and Share it HERE!