Rope-Light-Controllers
Rope-Light-Controllers offer you the ability to add dimming, strobe effects, patterned flash, flash speed control.

Controllers are designed with pin connectors. These pins are matched to an equal number of wires in a rope light; example, 2-wire, 3-wire and 5-wire rope lights.

More wires means more circuits. More circuits means more impressive lighting effects including flashing, chasing and colour blending effects to name a few.

As you would expect, you may purchase these as an after sale item or include them in your budget.

I don't think that I need to tell you this at all but …just in case…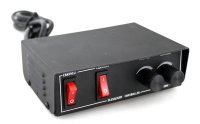 2-Function Rope Light
Rope-Light-Controllers are not usually weather-proof. Keep them in a dry place or install your controller outside then consider storing it inside of a weatherproof box.
Controllers are not all the same. Some will offer you more dazzling effects and others less. Some units are quite sophisticated (dimming, flashing, chasing, colour blending, sound synching and timer functions) while other units are basic (on/off).
Dimming:
This brightness control at the turn of a switch.
Flashing: one of the basic functions, flashing is alternating on/ off pattern. On some units this pattern may be sped up or slowed down according to your desire.
Chasing:
Like the marching lights of a movie theater marquee or airport runway, chasing is a dynamic effect which causes lights to appear to be moving.
Colour Blending:
Now here is one really cool effect! Colour blending is a function which allows you to adjust the colour balance allowing you to transition through any colour in the visible spectrum in a strand of rope lights. Imagine if you had a lighting system that produces white light.
Sound Syching:
this function allows your lighting effects to synchronize or "interact' with music and sounds.
Rope-Light-Controllers don't perform the same functions. Some offer 2 functions while others offer 8 functions, yet others offer 7 functions and so on….. and their overall quality will vary. All that that means is that you will find a unit to meet your demands and your budget.